Farm and Home Insurance Greenville Tx – There's No Place Better for Great Rates than Country Side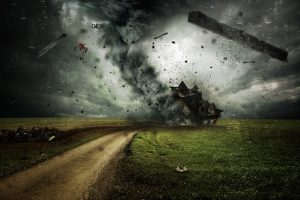 There's no better place to look for Farm Insurance in Greenville Tx or the surrounding towns than Country Side Insurance.
Request a free farm insurance quote today by calling 903-378-7300 or our toll-free at 888-505-7550.
Our hours of operation are Monday through Friday between 8:30 AM and 12:00 PM and 1:00 to 5:00 PM CST.
If you'd prefer, you can always click one of the links below to use our simple digital form to request a quote any day of the week:
Greenville Tx Farm and Home Insurance – Coverage Scenario Part 4
In our last article we continued to follow a farmer named Eric, owner of Easy E's Farm and Ranch.
The farm was in the path of a tornado, forcing Eric and his family to take shelter in their storm cellar below the house.
When the coast was clear, Eric and the family emerged, hoping their farm and home had not been damaged too severely.
What they found was a mixed bag; on the one hand, their house and their livestock barn had made it through the storm mostly untouched, save for a few bits of minor cosmetic damage.
On the other hand, their pole barn housing much of their farm equipment, including tractors and combines, had been completely flattened. The tools and machinery inside had been badly damaged, as well.
And to top it all off, Eric's crop fields had been torn apart almost entirely.
The question we've been addressing is: Out of all this damage, what will Eric's Farm Insurance cover and what will it not cover?
Last time, we determined that the damage to the home would be covered by the family's homeowners insurance, though the total cost would not likely exceed their policy's roof deductible.
We also determined that the pole barn would be replaced under Eric's farm policy.
But what about the farm equipment and the lost crops?
First, the equipment: tractors, combines, and all other farm equipment scheduled on Eric's policy would be covered. If a vehicle such as a tractor or combine is so badly damaged that it needs to be replaced, it will be replaced at cash value after factoring in depreciation.
And that leaves the crops. Would they be covered?
That depends on a few things, and is a question best answered by the agents of Country Side Insurance. Give us a call today and we can answer that question and more as we do our best to help you with your North Texas Farm Insurance needs.
Farm and Home Insurance Greenville Tx – Drop Us a Line Any Time.
Feel free to give us a ring any time during business hours. We'd be happy to answer any questions you might have about your insurance.

Call 903-378-7300 or 888-505-7550 to speak with us today, or click a location below to request a free farm insurance quote online:

Tags: